For one of the most romantic and serene getaways in the midwest, our luxurious Bed and Breakfast in Iowa is the best place to relax and reset. Our newly remodeled guest suites have everything you'll need for quiet mornings drinking your hot coffee in peace. Allow us to treat you to a gourmet breakfast before you set off to explore. The location of The Oakwood Inn puts you directly near favorite activities, including wine tastings, state parks, museums, and the Pearson Lakes Performing Arts Center.
After a day filled with adventures, we'll await your return for a cozy evening curled up by the fire. Retreat to one of our eleven freshly remodeled guest suites (eight of which have a double whirlpool tub); all offer high-end amenities, en suite baths with fine Aveda products, and comfortable beds dressed in luscious Comphy linens. Our Bed and Breakfast in Iowa is also known for its welcoming and warm Innkeepers, who have long been a the helm of the highest level of hospitality.
Read on to learn more about staying at the best Bed and Breakfast in Iowa, and reserve your room today!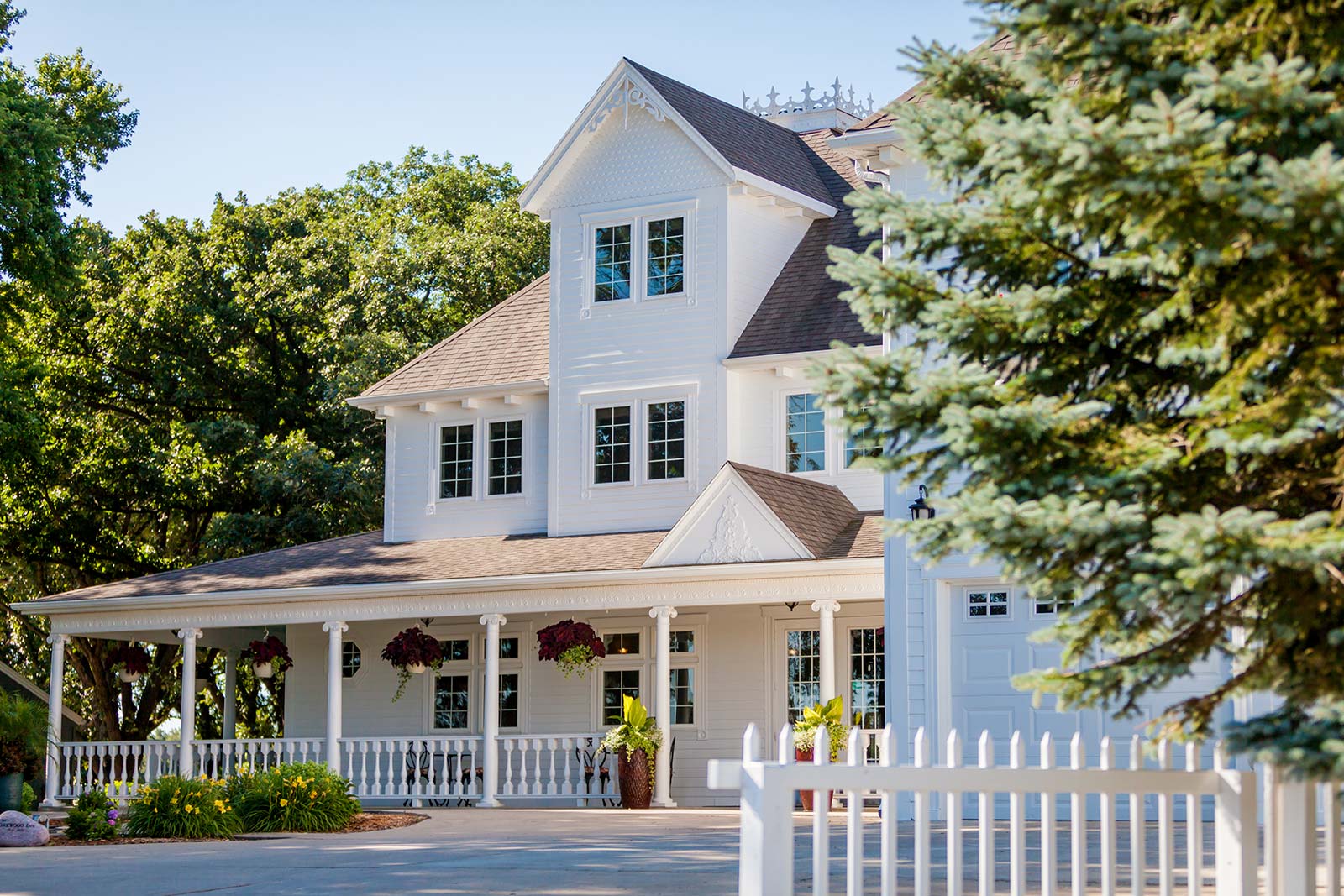 Soak up the Quiet and Calm at our Bed and Breakfast in Iowa
If you're on the hunt for a location to celebrate an upcoming milestone or anniversary, our Bed and Breakfast in Iowa is tailored to romantic getaways and special trips. Our adults-only Inn offers a welcome respite to relax—with only eleven guest rooms, you'll never run into crowds or deal with unwanted noise.
Here are six great reasons to stay at our Bed and Breakfast in Iowa for your next getaway:
Modern Guest Rooms: Let the pampering begin when you choose one of The Oakwood Inn's eleven spacious and newly remodeled rooms. Our Bed and Breakfast in Iowa includes comfort amenities like warm fireplaces, expansive verandas and patios, luxurious Comphy linens, and Aveda toiletries. Several rooms up the romance with double whirlpools, perfect for a bubble bath for two. All rooms have private bathrooms, large flat-screen TVs, and refrigerators.
The Den: The lower level of our Inn is home to a unique gathering space for our guests. The great room is the perfect place to relax any time of day. Play a round of cards or pool, sit back in one of the comfy leather couches and watch a movie, or curl up with a good book. For those who imbibe, beer and wine are available for purchase at the front desk.
Scratch-Made Breakfast: Each morning, an enticing aroma will come from our on-site kitchen as we create a scratch-made and seasonally sourced breakfast. Join us in the sun-lit dining room with cathedral ceilings for a piping hot mug of our very own coffee blend and tried-and-true family recipes—indeed, a breakfast you won't soon forget!
Our Surrounding Grounds: Our beautiful garden grounds offer a welcome respite any time of year. You'll love relaxing on the veranda surrounded by gardens in the spring and summer. During the fall, take quiet strolls under the Oaks as they change from greens to golds. And in the winter, bundle up, play in the snow and warm up by the fire.
Our Location in Iowa: Our Bed and Breakfast in Iowa is near some of the best attractions for those who love to head out and explore. There's fantastic antiquing and shopping in Okoboji, expansive state parks for hiking or kayaking, and plenty of excellent local restaurants and wineries.
Welcoming and Warm Hospitality: The main thing that sets our B&B apart from other lodging options is our dedication to giving each and every guest the best service possible. Your Innkeepers, Bill and Bridget, fulfilled a lifelong dream when they purchased The Oakwood Inn in 2016—and each day, they now get to live out that dream! Learn more about their journey here.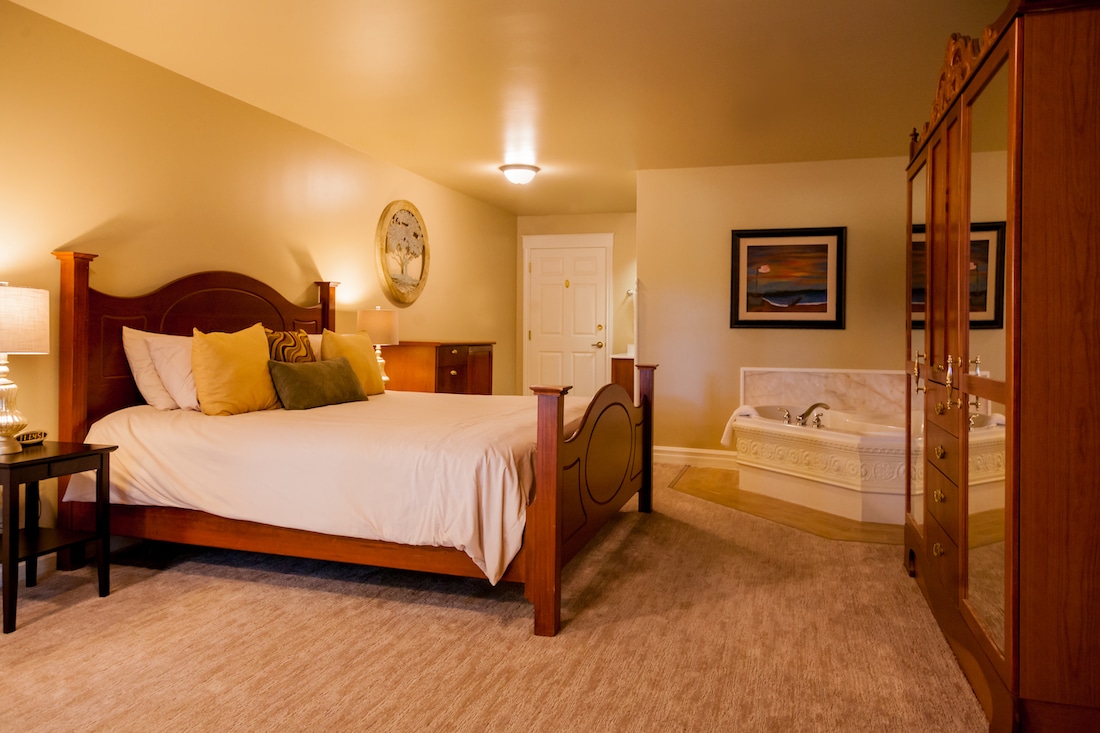 Romantic Lodging at our Iowa Bed and Breakfast
For one more reason to join us at our Iowa Bed and Breakfast, you'll love our enhancement packages to add to your stay. If you're here with romance as your focus, check out the Romance Package. This reasonably priced addition really ups the wow factor with a lovely seasonal floral arrangement, a bottle of wine or non-alcoholic sparkling cider, a charcuterie and cheese board, and beautifully scented bath salts to enjoy in the two-person tub.
We can't wait to host you at our luxurious Bed and Breakfast in Iowa; book your next stay today!